Finding Security in Structure and Routine
The past moth has brought many different changes to everyone's daily lives but it has also brought communities together and a variety of individualised on-line support. Please find some new advice and excellent resources from Surrey County Council below:
Surrey Local Offer
At JHS, we understand that students with Special Educational Needs and Disability (SEND) and their parents/carers are facing several challenges due to the Coronavirus (COVID-19).
The SEND department are available to discuss your worries or concerns during this period.
Please email the following staff for further support:
Mrs Alison Reid - Assistant Head/Inclusion Lead: a.reid@jubileehigh.surrey.sch.uk
Mr Johns – SENCo: a.johns@jubileehigh.surrey.sch.uk
Surrey's Local Offer are also providing support for parents/carers and students in a variety of areas:
Please find the link to the above support here – Coronavirus - Important Information
Educational Psychology Service – Coronavirus resource pack: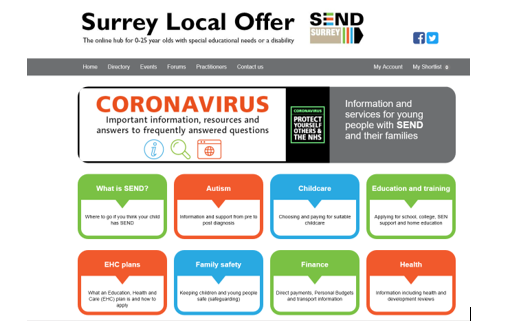 https://www.surreylocaloffer.org.uk/kb5/surrey/localoffer/home.page
Support with Anxiety
Feeling anxious and worried during this period of change is a normal feeling. It is so important to share you worries and concerns with your family or someone that you can trust. There are many different activities and strategies we can use during this period. For more detailed information please visit:
https://search3.openobjects.com/mediamanager/surrey/fsd/files/worry_and_anxiety.pdf
Ideas that students can try at home could include:

At JHS, we support many students in managing their anxiety through intervention. We have lots of resources and activities that students can complete at home in the following areas:
School is a space where structure enables us to be our most successful selves. Structure enables us to be on time, follow a clear plan and can have significant benefits such as keeping us active, supporting our mental health and enabling us to feel comfort in having a clear plan of action. At JHS, structure is vital for staff, students and parents; we all work harmoniously when the expectations are clear and communicated. Now, more than ever, it is important we all continue to keep motivated and structured to ensure we feel secure.
During this period of change, structure can be our saviour. Although we are not in our usual routine, we can continue to find security in following our own individualised plans. We know that at JHS, relationships between staff, students and parents is vital to ensure cohesion with our academic pathways. JHS staff are working closely with students to keep these important relationships alive and planning lessons to support academic structure at home. We continue to be grateful to both parents and carers for your support at home. We know that home school learning doesn't replace the excitement of being in lessons but we thank you for being the vital support for continuing your child's academic progress.
In school, we follow a daily routine:
| | |
| --- | --- |
| Time of Day | Timetable |
| 8:40am - 9:00am | Tutor time (Mon,Wed, Fri) |
| 9:00am - 9:50am | Period 1 |
| 9:50am - 10:10am | Movement break |
| 10:10am - 11:00am | Period 2 |
| 11:00am - 11:20am | Break |
| 11:20am - 12:10pm | Period 3 |
| 12:10pm - 12:30pm | Movement break |
| 12:30pm - 1:20pm | Period 4 |
| 1:20pm - 2:00pm | Lunch |
| 2:00pm - 2:50pm | Period 5 |
Keeping a daily routine for your children when they are home learning can have significant benefits for their mental health. Ensuring that the structure of your child's day includes some form of exercise, reading time, healthy snack breaks and leisure time will further support progress.
Working alongside your child can also help to set the tone of 'work-time' to enable some independent work together, which is device free to support their focus on their studies.
Helpful Tips to Motivate
As teachers, we understand that motivating children in the classroom, to engage fully with their learning day, can present some hurdles. Movement and wriggle time is key when focus begins to deteriorate. Providing movement breaks for your child when you identify their focus is wavering can be a productive way of resetting their learning clock. Give them a job to do around the house, send them into the garden for 5 minutes, check-in with your child away from their workstation or simply suggest they make a drink for themselves in the kitchen.
This time away from their learning can feel like a reward for any student; it would also be a perfect time to offer praise and incentive for what they have already accomplished. This positive boost can help to regulate a child's emotions and support productivity at home.
Sitting with your child and creating the home learning structure is the most powerful approach in setting the right learning environment. This child centric approach enables the child to feel part of the plan and their buy-in will be more focused. If you can make it visual with pictures and colour then this would suit our KS3 students.
Vulnerable Students
With some of our students with special educational needs (SEN) we spend more time at school supporting structure and routine. We support these students by spending focused time creating plans and often support this by writing a social story. This approach is visual, step by step and is child centric ensuring the child is at the centre of the plan.
An example Social Story focusing on the current Coronavirus situation can be seen here
If you would like support in writing a social story for your child then please email Mr Johns – SENCo: a.johns@jubileehigh.surrey.sch.uk
There are lots of websites which can further support students with SEN and offer ideas and strategies to support parents at home - click here